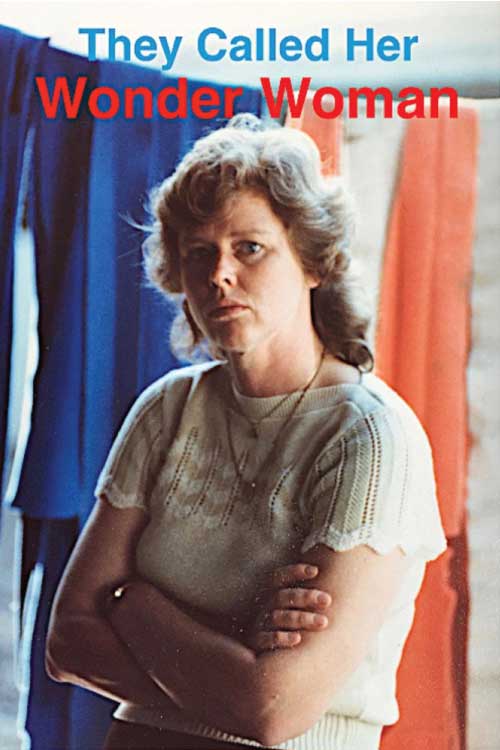 377 full-color pages
8 1/2 inches by 11 inches
over 300 horse photos
80 news media articles and clipping
$49.95 USD
They Called Her Wonder Woman: A Biography of Kay Vaughan
These videos show several of impressive stakes wins of Kay's horses in the early eighties. The first video is of Mondo Lu who kay had claimed for $8,000 winning the Fashion Handicap. Also included on this first video is Big Flyer winning the Joe Gottstein Futurity that netted over $100,000. Kay had claimed him earlier in the meet for $12,500. The second video is of Red Baron Returns winning the Longacres Derby at odds of 53-to-1. Kay had claimed his stakes winning dam for $10,000. At the end of the second video is a TV special on Kay's training of Red Baron Returns.
This book is the biography of ​a Longacres ​thoroughbred horse ​trainer that the press, racing fans, and horsemen came to call 'Wonder Woman'. In fifteen years from first insisting on training a homebred filly until her retirement ​due to health issues ​as Longacres racetrack was winding down, Kay Vaughan demonstrated​ award winning ​ability ​to ​improve the ​performance ​of horses. Because ​of her achievement​s​, she and her husband were the leading money winning owners at Longacres three years in a row. Demand for her services ​propelled her to ​prominence among the leading trainers at Longacres.
Within eight years of her humble beginnings she had a racing stable of thirteen horses, ten owned by her and her husband and another owned in partnership. Her unique training methods and racing strategy contributed to the amazing success of her horses. She believed in regular (some would have said 'frequent') strenuous exercise to get her horses fit​, which she believed kept them sound and ​allowed them ​to realize their full potential as racehorses. She also believed that it is generally the best strategy for horses ​to ​come from far off the pace so as to challenge tiring horses.
Most of her homebred horses would be claimed by trainers who thought they could improve on her methods. They were invariably wrong. The claiming prices she received for homebred horses allowed her to claim well bred replacements at lower claiming prices. She altered the running style of horses she claimed that had always vied for the lead out of the gate ​by having them pulled back​ – forcibly at first, to teach them to relax​. Horses she claimed dramatically improved, often by their very next start. Gradually she put together a powerful stable of horses that knew how to win and was ready to explode onto the racing stage by the early eighties. Most of her stakes winning horses would be horses she had claimed.
From that stable Kay saddled eight stakes winners (six in 1982 alone) and five more who placed in stakes. That was eleven of her thirteen horses. A twelfth horse had placed in stakes in 1981 and won allowance races in 1982. In a one year period her horses won three hundred-thousand-dollar races including the Gottstein Futurity by Big Flyer who she had claimed two races earlier for $12,500, the Longacres Derby at 53-to-1 odds by Red Baron Returns whose stakes winning dam she had claimed for $10,000, and the El Camino Real Stakes by After Hours five days after he had been shipped from her stable to California.

Although known as a 'claiming trainer', Kay's horses ran in higher class races than those of most leading trainers ​for whom success​ was​measured in number of wins rather than earnings. Yet, running her less expensive horses against the best competition in feature races, her overall win percentage was consistently among the best of any professional  trainer.
​Although this is a personal biography, ​it ​provides valuable insights into thoroughbred pedigree analysis, how one becomes a trainer, the regimen of training high quality thoroughbred horses, and the everyday realities of the racetrack including race selection and claiming strategies. In the 375 full color pages, there are over 300 horse photos – most in full color – and eighty news media press clippings and articles addressing Kay's achievements. This book belongs on the bookshelf of anyone who loves thoroughbred racing.